So, I'm back from my weekend retreat.
It was a great experience, and very relaxing. My children also had lots of fun.
The food wasn't the best for someone eating keto, but it was manageable. I'm now back to eating my normal keto foods (as soon as I get some shopping done).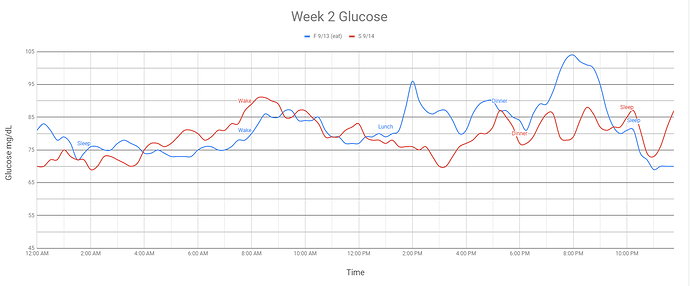 I had lunch on the road on Friday the 13th (I had a bacon-avacado burger at a small diner). Dinner was salad w/ some kalua pork. I'm thinking it wasn't the best meal, based on how my glucose reacted. Glucose went down and then waaaaaay up (for me).
On Saturday I skipped lunch (it wasn't looking very keto anyway) and just had supper. I didn't have any ketoaide with me, or much sugar-free powerade, so I think I was lacking salts. I was trying to stay hydrated, but don't think I did well with it. Dinner was yummy (they had some sauce free ribs, yay!) that I put my own sugar-free sauce on (and used my own Primal Kitchen salad dressing). My glucose did fairly well with the Saturday supper, the only thing was I ended up puking several hours later. I had been feeling a bit nauseas earlier, but was trying to stay hydrated.
Yesterday I had lunch and dinner on the road. Lunch was late in the afternoon, 3:30ish and supper was about 5 hours later. So that meant that my glucose didn't have a lot of time to come back down after eating lunch before I ate more food again.
Today I'm back to only eating supper, drinking green tea, and such. I'm not sure why my morning glucose was so high, but it could have to do with being thirsty or not sleeping well (I'm not saying they are causative, but correlative). My glucose seems to trend higher when I don't sleep as well (I guess its like mini roller-coaster dawn phenomena?).